Devonport Strikers v Lambton Jaffas
Wednesday 10 August 2016
Valley Road, Devonport (TAS)
Kick-off: 7.30pm local (7:30pm AEST)
Referee: Shaun Evans
Assistant Referee 1: Luke Brennan
Assistant Referee 2: Wilson Brown
Fourth Official: James Hortle
Tickets: Click here for ticketing details
Online Broadcast: Streamed online at  www.foxsports.com.au/football/ffa-cup/ffacupondemand  and Apple TV via FOX SPORTS Now
Join the conversation on Twitter using the hashtags #DEVvJAF #FFACup
Devonport Strikers squad: 1.Nikolas Giantsopoulos (gk), 3.Dominic Smith, 4.Beau Blizzard, 5.Joseph Zupo, 6.Jesse Dance, 7.Brody Denehey, 8.Kieran Mulraney, 9.Brayden Mann, 10.Joel Stone, 11.Adam Gorrie, 12.Chris McKenna, 14.Miles Barnard, 15.Mitchell Blake, 16.Todd Hingston, 18.Michael Dahya, 19.Jack Dance, 21.Thomas Pearce (gk), 22.Harrison Wicks, 23.Nathan Gratton
Lambton Jaffas squad: 1.Bradley Swancott (gk), 2.Luke Willard, 3.Matthew Browne, 4.Kevin Davison, 5.Riley McNaughton, 6.Jobe Wheelhouse, 7.Bailey Jensen, 8.Joel Wood, 9.Rhys Tippett, 10.John Majurovski, 11.Luke Remington, 12.Alex Johnson-Young, 13.Michael Williams, 14.Benjamin Hay, 19.Michael Sessions, 20.Andrew Goldman (gk), Brendan Frost, Joel Grenell, Peter McPherson, Aiden Palozzi, Carter Smith, James Byrnes, Josh Carroll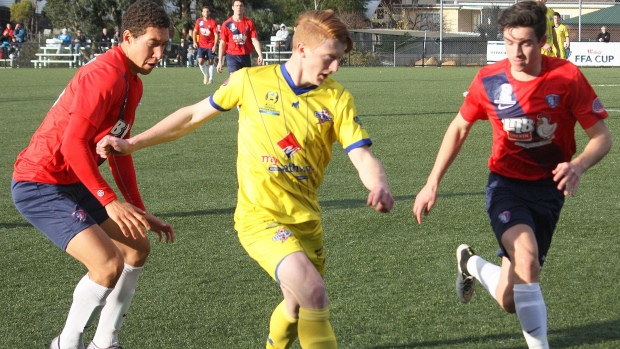 Bluffer's Guide
The Jaffas' Twitter feed announces proudly to its followers: 'With John Majurovski now leading the line, can we do the unthinkable?'
Well, the unthinkable has already happened in the Round of 32, so why can't the cutely named Jaffas taste some sweet FFA Cup success?
And like Redlands, there is some history behind the area.
Lambton Park has a plaque that commemorates the beginning of football in Newcastle in 1885, when teams from South and North Lambton met.
The club itself was formed in 1957 and the "Jaffas" nickname came in 1978 to help differentiate between the club's two senior sides.
The Jaffas are in the bottom half of the NNSW NPL but like many, will hope the Cup is a circuit breaker.
Majurovski has five goals as has Joel Wood and the side is ably lead by former A-League midfielder Jobe Wheelhouse as their captain – the former Jet is only 31 and still fit as a fiddle.
Luke Reminton and Ben Hay were also recent selections in the NNSW side to face the Jets so there's a bit of quality.
And wisely perhaps, it was an under-strength Jaffas who lost 3-0 to Jets Youth on Saturday.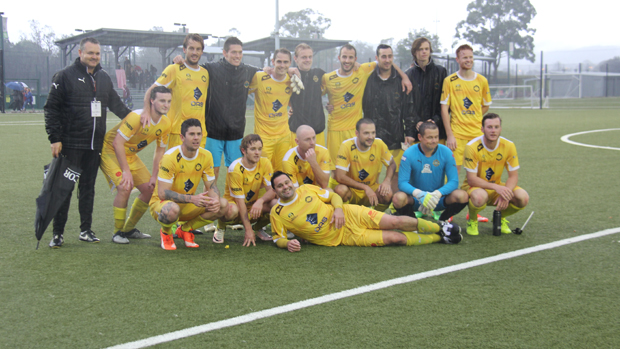 Coach Jim Pascoe rested Wheelhouse, Hay, Kevin Davison, Bailey Jensen and Joel Wood, who all sat out the clash as they were sitting on four yellows.
But there's quality at Devonport Strikers. In short, this is one helluva machine that's smashed the league this year.
Strikers have enjoyed a meteoric rise in 2016, improving from seventh in the 2015 PS4 NPL TAS to now be sitting clear on top of the table with a league trophy tantalizingly close.
It appears they are on their way to a Cup/League double, having also won the Statewide Lakoseljac Cup to qualify for the FFA Cup.
The Strikers have an impressive 16 wins, 1 draw, 1 loss record in the league in 2016 going into last weekend's round.
At the heart of this defensive unit is a pair of Canadian imports. Goalkeeper Niko Giantsopoulos is widely regarded as one of the finest keepers to have played at this level in Tasmania.
In front of him there is his towering compatriot, Joe Zupo, a centre back who routinely shuts down the best attackers.
His partnership with former Tasmanian state representative Nathan Gratton gives them a rock solid spine in defence.
The fullbacks Mulraney and Smith don't push on much and are also on the tall side, making for a physically imposing back four that dominates in the air.
The improvement comes from the top with Peter Savill, a former Leeds United player before moving to Tasmania in the 70s to play, taking the top job and immediately stamping his style on the group.
He has them playing a defence first, counter-attacking game with forwards and midfielders required to work hard both ways – player fitness has been a massive focus.
His system requires total commitment and rigid discipline – there is no doubt he has the players buying in and the results speak for themselves.
It is not pretty, but it is very effective.
Another notable addition is Brayden Mann, who returned home after two years at South Hobart: 21 goals in 18 league games this season says it all.
And Mann's willingness to press along with wingers Adam Gorrie and Brody Denehey makes them a mobile front three.
So, the Round of 16 await these two clubs.
New league champions Edgeworth FC have already represented the Hunter in fabulous fashion with a road win in tropical Cairns.
Can the Jaffas jag some more Cup glory for the Hunter in wintry Tasmania, or will the sensational Strikers keep Tassie flag flying high in the next stage of the Cup.
Whatever happens, it'll be an entertaining match with commentary from our favourite Tassie commentators, "Gilly and Corndog".